5 Winter Driving Tips Every Albertan Should Know
5 Winter Driving Tips Every Albertan Should Know
Posted on June 16, 2023
Winter brings challenges that even the most seasoned Alberta driver might have trouble navigating. While most of us living in Edmonton know to only drive with winter tires and to pack an emergency kit in the vehicle, there are a few winter driving tips that get overlooked each year that make a big difference when it comes to preparing yourself for colder temperatures and bad road conditions.
We put together five tips every Albertan should know before they hit the road this winter. With a little planning and some foresight, we hope everyone makes it to their final destination safe and sound.
Also Read: Alberta Winter Driving Tips
Winter Driving Tip #1: Attend Your Regular Maintenance Appointments
Toyota recommends that you bring your vehicle in for regular servicing every 6 months or 8,000 km, whichever comes first. Each vehicle has its own recommended maintenance schedule which you can follow in the owner's manual or check online here.
Toyota accounts for seasonal changes so sticking to the schedule makes sure your vehicle has the right fluids (antifreeze, brake fluid, etc.) and parts (winter tires, wiper blades, etc.) to withstand even the most brutal of temperatures.
Because we all have a lot going on in our daily lives, the Toyota Service Connect App stays on top of your maintenance schedule for you. It monitors the health of your vehicle and sends push notifications to your phone when it's time to make an appointment.
Winter Driving Tip #2: At a Minimum - Keep Your Gas Tank Half Full
The closer your gas tank gets to empty, the higher the chance of condensation building up in your gas lines. If the temperature drops below freezing that moisture can freeze, which can cause serious damage to your engine and in some scenarios lead to breakdowns on the road.
Another reason to keep your gas tank as full as possible is in case of a breakdown. You want enough fuel to keep you and the vehicle warm if you need to wait for help on the side of the road.
Winter Driving Tip #3: Buy Some Winter Wiper Blades
We have all been caught driving with frozen wiper blades at one time or another. They get packed full of snow and ice and instead of brushing away sleet and debris they scrape across your windshield and make things worse.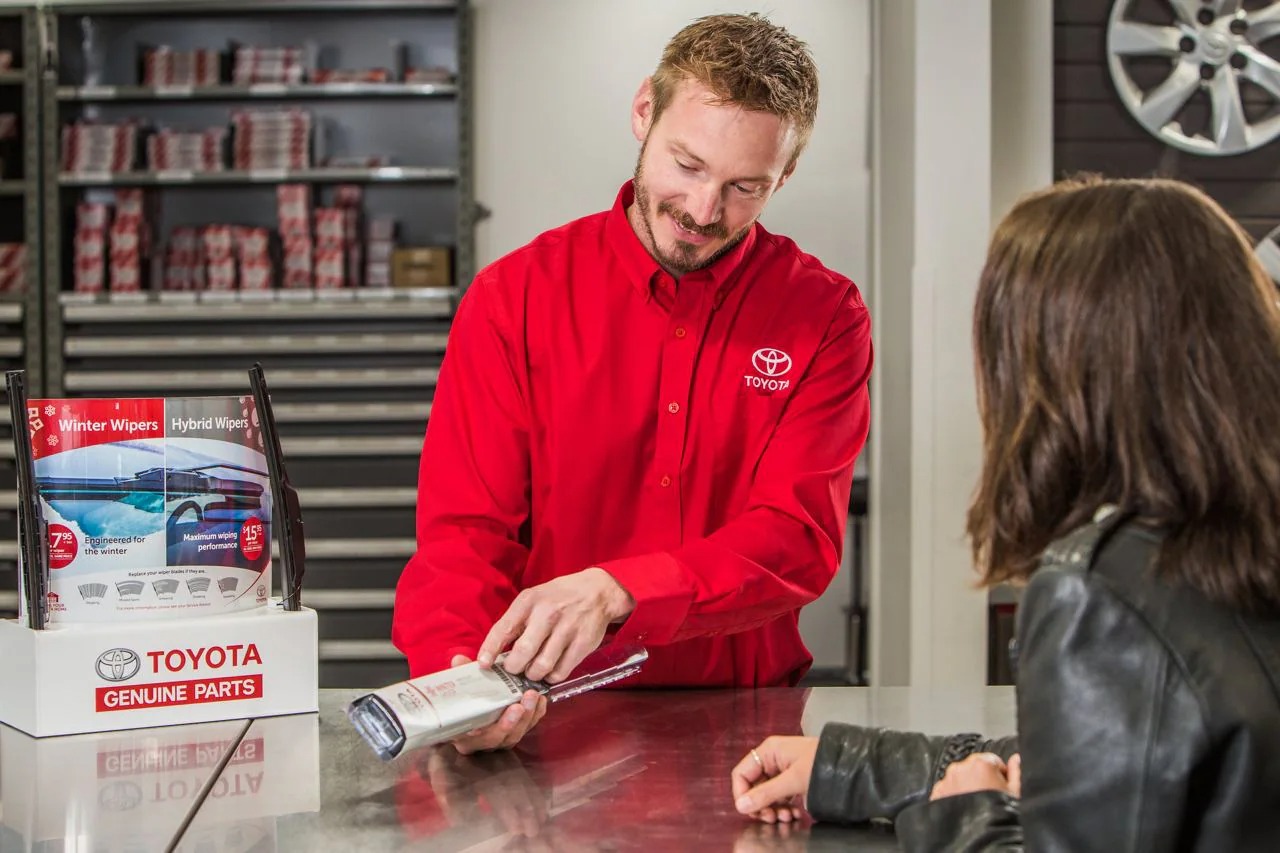 Toyota Genuine Winter Wiper Blades are designed for cold weather conditions and feature a wedge-shaped deflector that removes snow that builds up. After a few swipes, your blades are back to normal and ready to clear your line of sight.
To make things even easier for yourself, we recommend shaking off your blades and leaving them extended in the air when you park somewhere or leave your vehicle outside overnight. This prevents snow and ice from forming around your blades in the first place.
Also Read: Why Buy Toyota Genuine Parts
Winter Driving Tip #4: Only Use Cruise Control When It Makes Sense
Everyone loves cruise control on a long stretch of highway. But in the winter months, it might not always be safe. We recommend avoiding using cruise control in the city during the winter months and especially on roads where it might be slippery or icy. If you don't feel comfortable maintaining a steady speed for a long period of time, skip cruise control altogether.
Winter Driving Tip #5: Know How To Use Toyota Roadside Assistance
Anything can happen on the road during the winter. From an unexpected storm to highway closures, black ice patches and more, the chances of these situations are even higher in Alberta.
If the time comes and you need assistance, be sure to know how to navigate and use Toyota Roadside Assistance. Whether it's boosting a dead battery, pulling a vehicle out of the ditch or providing emergency fuel when you run out, our roadside assistance team will make sure you get the help you need when you need it. If you just purchased a Toyota, you are covered with roadside assistance for the first three years of ownership. 
Winter Driving Tips From The Pros
Our team at West Edmonton Mall Toyota has been navigating Alberta winters for a long time. We know the ins and outs of taking care of your vehicle so it takes care of you when road conditions get bad.
We always encourage our guests to purchase and install winter tires. We also recommend keeping an emergency kit in the vehicle that includes things like a shovel, granola bars, jumper cables, first aid supplies and more.
We also highly recommend bringing your vehicle in for regular servicing so our technicians can make sure everything is working as it should and are able to fix issues before they become worse at the wrong time.
You can make a service appointment at a time most convenient for you or request a part from our team. Need a set of winter tires? Have one of our expert tire specialists choose the right fit for your model.