West Edmonton Mall Car Wash & Valet Parking
You never have to fight for a parking stall again! You can drop off your vehicle to have it cleaned, have rock chips repaired, or simply just use our valet service to make getting in-and-out of the mall a breeze.

Located at Entrance 50 - right beside the waterpark. All makes and models welcome!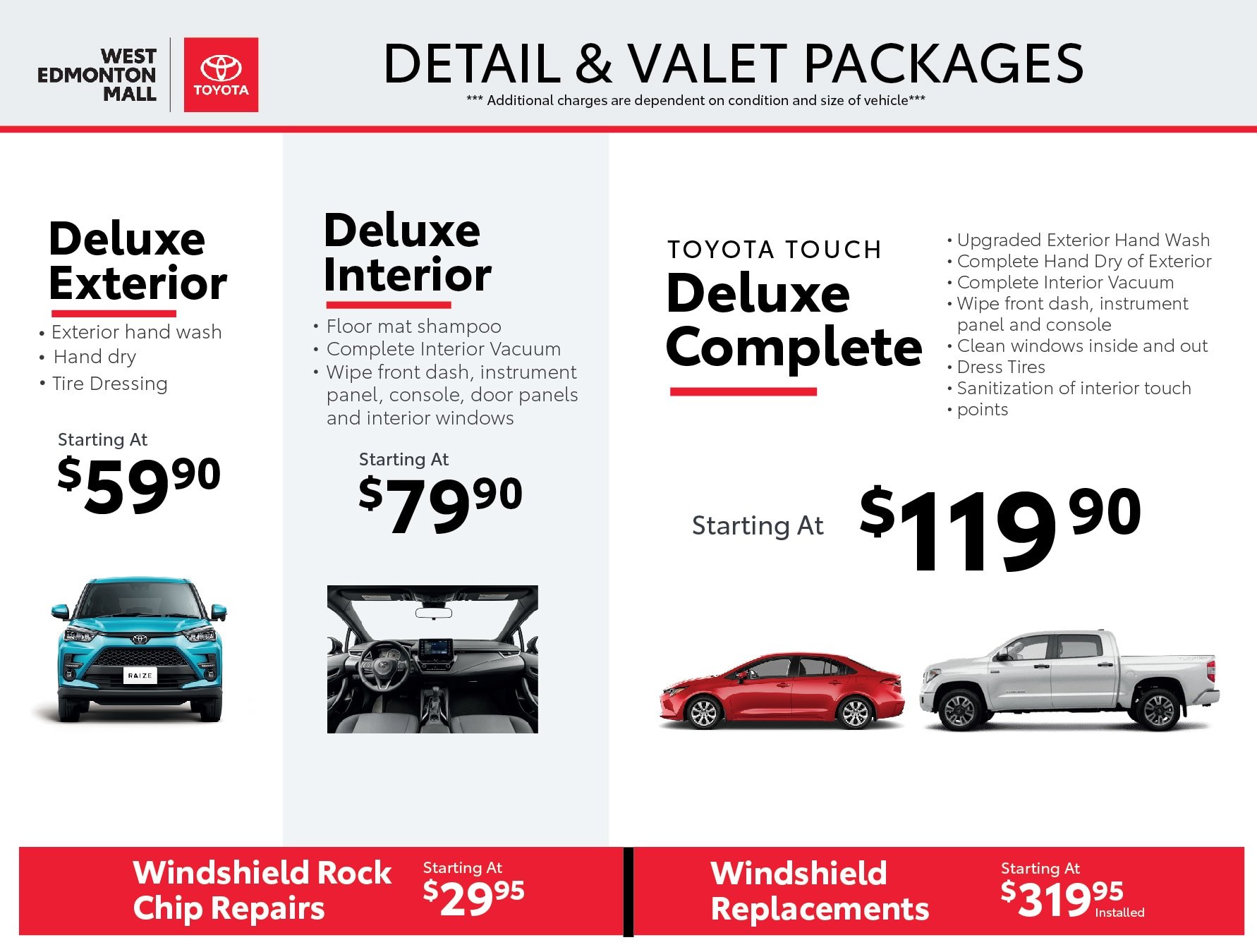 INTERIOR DETAILING
You know that feeling you get when you first sit inside your brand new car? How beautiful it looks, feels and smells on the inside? Proper interior maintenance and protective conditioning treatments are an excellent way to maintain that feeling over the course of ownership.

Wear-and-tear is normal and expected on any vehicle. Dust, dirt, exhaust, and rocks all eventually take its toll. Visible soiling and discoloration on fabric, vinyl, and leather surfaces are impossible to avoid. The good news is, an annual detail can eradicate most issues and have your vehicle looking incredible again in a matter of hours.

Our team of detail experts are meticulous when it comes to your vehicle. We thoroughly scrub and clean every element of the interior including the door panels, dashboard, gauges, vents, visors, steering wheel and column, and center console.

We thoroughly clean and disinfect the seats, carpets and trunk with high-quality shampoo. If the seats are leather or vinyl, we carefully clean and treat them with conditioners to soften, preserve, and protect.
TRUST IN OUR PROFESSIONAL DETAILING SPECIALISTS
While we always recommend performing small cleans on your own, we know how much energy and time it can take to do a thorough job. Plus, using off-the-counter products can actually do more harm than good.

Trust in our professional detailing specialists to protect your investment and keep your vehicle sparkling like new. We know the ins-and-outs of every nook and cranny inside your car. We leave no piece unturned and ensure every element of your vehicle receives care with the highest-quality and high-grade cleaning products available.

We offer a variety of professional car detailing services ranging from hand car washes, carpet shampoo, interior detailing, paint and fabric protection, exterior detailing, cut polishing and waxing. We can even create custom packages catered for you and your specific needs.

We are extremely proud of the first-class detailing services we provide our customers. We have helped restore some of the dirtiest and grimiest cars in Edmonton. If you have a vehicle that is littered with cheerios, stained with paw prints, or just needs some attention, contact us today! We can book you an appointment at your earliest convenience.
BOOK YOUR APPOINTMENT ONLINE NOW
Book an appointment online or call (780) 420-1111. Our knowledgeable staff will help you decide which detailing package is right for you and your vehicle! Please note that all pricing is subject to change at any time, call for latest prices.