Mayfield To Open In West Edmonton Mall October 2021
Mayfield To Open In West Edmonton Mall October 2021
Posted on June 9, 2023
Mayfield Toyota will officially be opening its new location inside West Edmonton Mall in October 2021. Our new name will be West Edmonton Mall Toyota, the only full-service dealership in a shopping centre anywhere in Canada.
This is a move of unprecedented proportions. With just 90 days left until our grand opening, we are excited to share what you can expect from our state-of-the-art sales and service facility inside one of the biggest malls in the world.
Ultimate Convenience For All
Our mission from the beginning of this relocation was to create the most convenient and enjoyable way to own or service a vehicle in Canada. West Edmonton Mall is one of the largest shopping facilities in the world, offering thousands of shopping, entertainment, dining, and health and wellness experiences all in the same location. Bringing our dealership inside this hub of possibilities seemed like the perfect way to achieve that mission.
Inside West Edmonton Mall Toyota

The all-new West Edmonton Mall Toyota is approximately 317,000 total square feet making it the largest place in Canada to fulfill all your automotive needs. With a fully immersive and beautifully designed 35 vehicle showroom, 70 bay service shop, 6 express service bays and 18 detail bays, your experience with any of our departments will be quick, convenient, and completely stress-free.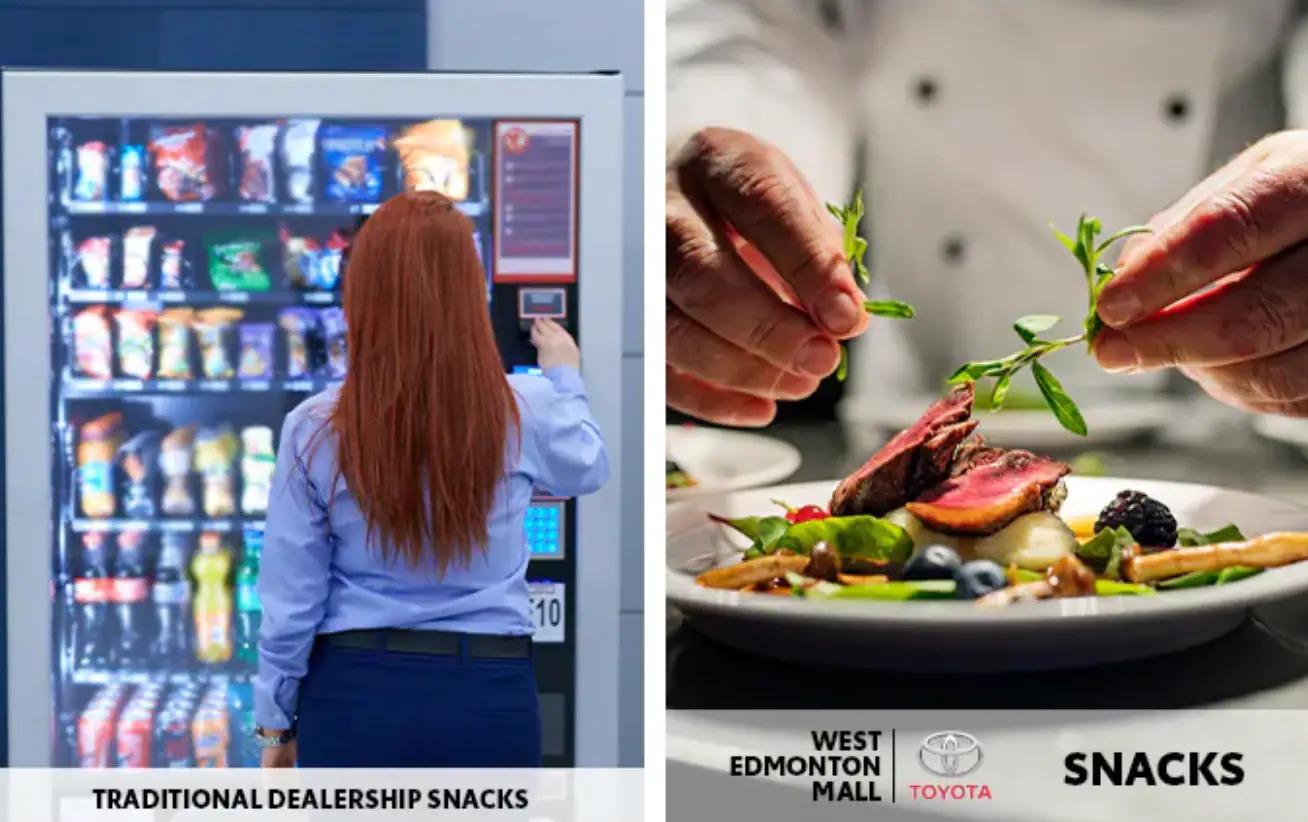 West Edmonton Mall Toyota will be open 7 days a week with early and late hours in service, parts, detail, and sales. This makes shopping or servicing your vehicle convenient no matter your lifestyle. Perhaps the most exciting part is the access our guests will have to thousands of experiences including shopping stores, restaurants, entertainment options, a world-famous waterpark, and more.


Why Choose West Edmonton Mall Toyota?

These days, customers have come to expect a level of customer service that goes above and beyond and meets their needs in real-time. While many businesses have raised their bar of service and met the demands of their customers, most car dealerships seem to be caught in the past.

Restrictive hours, crowded showrooms, long waits, and terrible coffee. Sound familiar? We knew there had to be a better way. Building our new Toyota dealership inside West Edmonton Mall was the perfect opportunity to elevate our service and effectively meet the standards of today.

The Final Countdown is On
Mayfield Toyota has been proudly serving Edmonton for over 21 years. In that time, we have developed a loyal customer base that has come to feel like family to us. We are so thrilled to start this new chapter in our dealership and pioneer a movement that will revolutionize the automotive customer experience in Edmonton.
Want to stay up-to-date on our relocation plans and grand opening details? Find more information on our move here and follow us on Instagram and Facebook for details and updates. We are excited to make history with you all.

We Are Now Hiring

Want to work at a state-of-the-art dealership? Do you have automotive sales or technician experience? Are you motivated and hardworking? Join our team and be a part of something great.