Demystifying Electric Vehicles For Edmonton Drivers
Demystifying Electric Vehicles For Edmonton Drivers
Posted on June 15, 2023


If you are considering an electric vehicle in the midst of some of the highest gas prices Edmonton has ever seen — you are not alone. The number of Canadians wanting to purchase electric vehicles (EVs) in 2022 has skyrocketed with 46% of people saying their next vehicle will be an EV, according to a recent survey done by EY Mobility Consumer Index. That is up 11% from the previous year!
The thing is…
There are a lot of mistruths floating around about what electric vehicles are and what they do. This blog post will eliminate the confusion and help you make the decision if an electric vehicle is right for your next vehicle.
If you have more questions about electric vehicles, feel free to reach out to anyone on our team at West Edmonton Mall Toyota. Our Toyota specialists are some of the best in Edmonton and can help you learn and source the right vehicle for you — electric or hybrid.
What Types Of Electric Vehicles Are There?
There are several different types of electric vehicles but for our purposes here today, we will focus on the four models Toyota carries.
Hybrid Electric Vehicles: Hybrid Electric Vehicles (HEVs) are when a gas engine is paired with an electric motor. Their hybrid battery recharges as you drive, so you will never need to stop to plug it in.
Plug-In Hybrid Vehicles: Plug-In Hybrids (PHEVs) operate the same way as HEVs, but instead drivers have the option to plug it in for extended electric-only range.
Battery Electric Vehicles: Battery Electric Vehicles (BEVs) are zero-emission vehicles powered by electricity alone. You will need to plug BEVs in, but the system also uses regenerative braking to recharge the battery as you drive.
Hydrogen Fuel Cell Vehicles: Hydrogen Fuel Cell Electric Vehicles (FCEVs) use hydrogen as an energy source to power high-output electric motors, emitting only water from the tailpipe.
Are Electric Vehicles More Expensive?
The short and sweet answer is — it depends on the brand and model. While some brands offer electric vehicles at a higher cost, other brands have a relatively consistent pricing model depending on the lineup and trim you choose. However, oftentimes the cost of an electric vehicle from the beginning is more expensive. But this is just in terms of the initial cost of the vehicle.
Electric vehicles can actually save you money over the course of ownership. Especially as the cost of fuel continues to rise in Canada, passing $2.20 in major cities like Edmonton, Vancouver and Toronto. The Government of Canada also offers the Incentives for Zero-Emission Vehicles (iZEV) Program which helps make purchasing them more affordable.
There are two rebates available for this program.
Battery-electric, hydrogen fuel cell, and longer-range plug-in hybrid vehicles that have an electric range equal to or greater than 50 km are eligible for up to $5,000
Shorter range plug-in hybrid electric vehicles that have an electric range under 50 km are eligible for up to $2,500.
For Toyota vehicles, the models eligible to receive this benefit are Prius Prime, RAV4 Prime, and the Mirai.
Do Electric Vehicles Require More Maintenance?
Toyota Gas vehicles and electric vehicles work differently and require different parts, however, the maintenance required to upkeep both follow the same maintenance schedule – every 6 months or 8,000 km.
Another way to think about electric vehicles is that they don't have an engine or transmission. This means there are fewer mechanical parts to maintain and replace. Anyone that has had to replace an engine or transmission knows how costly that can get.
New Toyota Electric Vehicles equipped with Toyota Service Connect let you stay in the know about the health and wellness of your ride. From vehicle health reports to information and service reminders, you can stay on top of things before major problems occur.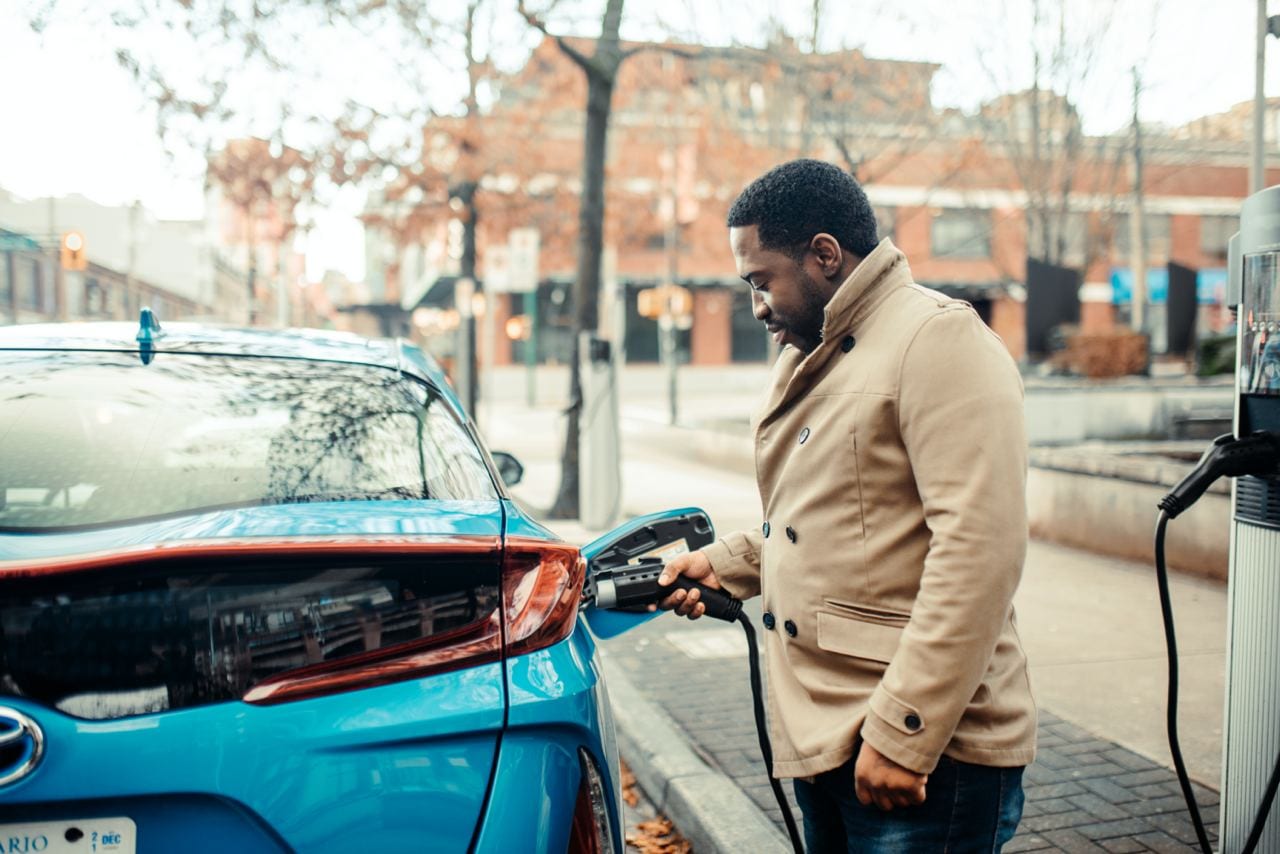 Are Electric Vehicles Slower?
Electric motors generate 100% of their available torque instantly. This means you can accelerate more quickly and smoother than you can while driving a gas-powered vehicle. In a PHEV, you can travel even faster and further in EV-mode than conventional hybrid electric vehicles. In fact, the Toyota RAV4 Prime puts out an amazing 302 horsepower and goes from 0-to-100 km/h in just six seconds. That makes it the second fastest Toyota on the streets next to the Supra… a sports car.
Are Electric Vehicles Practical in Edmonton?
The City of Edmonton has made reducing greenhouse gas emissions one of their top priorities in recent years. Their Electric Vehicle (EV) Strategy identifies how they plan on making it easier for people to own an electric vehicle, prepare the path for electrifying transportation of personal vehicles and ultimately help reduce greenhouse gas emissions. That includes increasing the amount of charging stations across the city.
There are 106 public charging station ports (Level 2 and Level 3) within Edmonton. 85% of the ports are level 2 charging ports and 70% of the ports offer free charges for your electric car. You can even find level 2 charging stations at West Edmonton Mall!
There are also five websites you can use to find the nearest charging station near you: Canadian Automobile Association, ChargHub, Flo, Government of Canada, and PlugShare.
How Far Can Electric Vehicles Go?
Electric cars can go further ever thanks to battery technology getting more powerful and affordable.  Battery size isn't the only thing that affects how long an electric vehicle can go. Driving habits matter as well. For example, the quicker you drive, how much you need to accelerate, whether you turn on your AC or the heater, as well as how warm it is outside, will all play a role in how long you can last on a single charge.
The RAV4 Prime is similar to the non-plug-in RAV4 Hybrid, but adds a larger battery pack that provides up to 68 km of electric driving range. Toyota's energy consumption ratings are 2.5 Le/100 km in electric mode and 6.0 L/100 km in combined city/highway hybrid driving.
Have More Questions About Electric Vehicles?
Have questions about hybrids or electric vehicles? Contact our team today at
(780) 420-1111
or follow us on
Instagram
,
Facebook
,
Twitter
or
TikTok
for daily content on everything from Toyota to Edmonton, new incentives and events and more.