Choosing the Best Toyota Hybrid For 2023
Choosing the Best Toyota Hybrid For 2023
Posted on August 9, 2023
Want to know what the best Toyota Hybrid models are for 2023? You aren't alone.
More than ever Edmonton drivers are prioritizing environmentally conscious vehicles backed by cutting-edge technology. As such hybrid vehicles have taken center stage. Among the leaders in this movement is Toyota, renowned for its commitment to innovation, reliability, and sustainability.
As the best Toyota dealership in Edmonton offering a wide range of hybrids, we wanted to explore some of the best Toyota hybrid vehicles. We break them down in terms of their fuel efficiency and features. 
But first…
How Does a Toyota Hybrid Work?
At the heart of Toyota's hybrid vehicles lies a groundbreaking technology that seamlessly blends gasoline power with electric propulsion – Toyota Hybrid Synergy Drive. This innovative system intelligently switches between the gasoline engine and the electric motor, optimizing fuel efficiency while minimizing emissions. 
Through regenerative braking, the electric motor converts kinetic energy into electric energy, which is then stored in the battery for later. This dual-power approach not only significantly improves fuel economy but also reduces the carbon footprint of your drive.
Toyota's commitment to hybrid technology extends beyond exceptional efficiency – it also encompasses a smooth driving experience, advanced onboard technology, and a tangible contribution to a greener future. 
Is Buying a Toyota Hybrid Vehicle Affordable in 2023?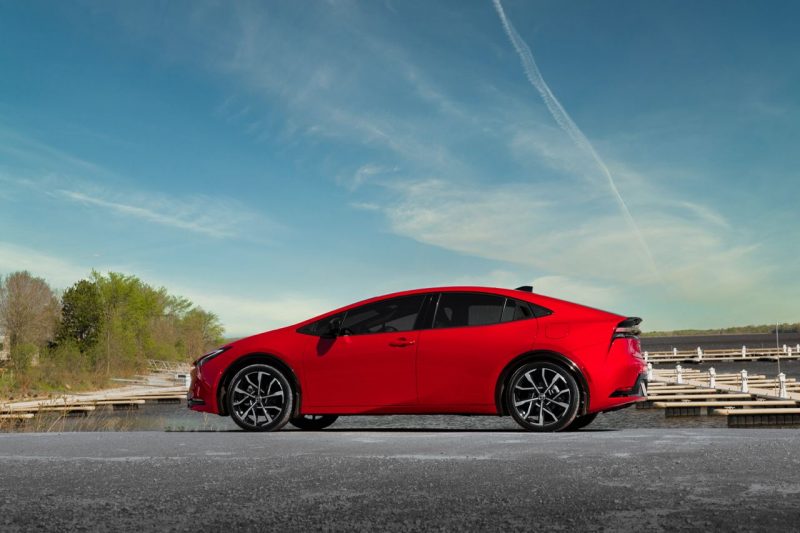 Buying a Toyota hybrid has become increasingly affordable in recent years. As hybrid technology has matured and gained widespread adoption, many factors have contributed to making hybrid vehicles more accessible and cost-effective for our customers.
Here are a few reasons why Toyota Hybrids have become more cost-effective options for Edmonton drivers. 
Lower Manufacturing Costs: As hybrid technology has advanced, manufacturing processes have become more efficient. This has led to reductions in production costs for hybrid components, which are reflected in the overall price of hybrid vehicles.
Incentives and Tax Credits: The Alberta Government offers incentives and rebates for purchasing hybrid vehicles. These incentives can significantly lower the upfront cost of buying a Toyota hybrid, making it a more affordable option for consumers. To view these incentives click here. 
Variety of Models: Toyota now offers a range of hybrid models, from compact cars to SUVs and even trucks. This variety allows consumers to choose a hybrid that fits their needs and budget.
Long-Term Savings: While the initial cost of a hybrid vehicle might be slightly higher than that of a traditional gasoline vehicle, the long-term savings on fuel costs offsets this difference in the long run.
So now you're probably asking yourself: which Toyota Hybrid is the best? Below are a few of our favourite options. 
Toyota Prius
When you think of hybrid vehicles, the Toyota Prius is likely the first that comes to mind. As a pioneer in hybrid technology, the Prius has maintained its reputation for stellar fuel economy and eco-friendly design.
The 2023 Prius continues to impress with its aerodynamic shape, advanced hybrid drivetrain, and spacious interior. Whether you're commuting through Edmonton or embarking on a road trip, the Prius combines efficiency and practicality seamlessly. In fact, the Toyota Corolla Hybrid is the most efficient hybrid car on the Canadian market according to driving.ca.
Toyota Camry Hybrid
For those seeking a hybrid sedan that offers a blend of elegance and efficiency, the Toyota Camry Hybrid is a popular choice, especially with our customers. The 2023 Camry Hybrid boasts a sleek exterior, a comfortable interior, and a hybrid powertrain that delivers a smooth and responsive performance.
With its impressive fuel economy (5.1 L/100 km Combined, 5.3 L/100 km City and 5 L/100 km Highway) and modern tech features (9-In. Multimedia Touchscreen, Apple CarPlay, Android Auto and more), the Camry Hybrid caters to both eco-conscious drivers and those who value a sophisticated driving experience.
Toyota RAV4 Hybrid
As the popularity of SUVs continues to rise, Toyota has brought its hybrid technology to the crossover segment with the Toyota RAV4 Hybrid. Combining the practicality of an SUV with the fuel efficiency of a hybrid, the 2023 RAV4 Hybrid is a versatile choice for families and adventurers alike. 
We love the fantastic fuel economy of 5.8L/100 km in the city and 6.3L/100 km on the highway it offers our customers. It also has a towing capacity of up to 3,500 pounds which means you can tow the toys to the lake for the weekend. With its all-wheel-drive capability and spacious interior, this hybrid SUV is well-suited for both urban exploration and off-road escapades. 
The RAV4 Hybrid also offers a lot of standard safety systems, such as automatic emergency braking, lane departure warning, lane-centring steering assist, adaptive cruise control and automatic high-beam headlights. Available features include a 360-degree camera system and blind spot warning with rear cross-traffic alert.
Toyota Corolla Hybrid
Compact and efficient, the Toyota Corolla Hybrid offers a hybrid option for those who prefer a smaller vehicle. The 2023 Corolla Hybrid features a sleek design, a comfortable cabin, and a hybrid powertrain that ensures you won't compromise on fuel savings thanks to an outstanding fuel economy rated at 4.6 L/100 km in the city, 5.4 on the highway, and 4.9 combined.
 Another thing to consider is reliability and thanks to rankings issued by Consumer Reports in 2022, the 2023 Toyota Corolla Hybrid came out on top. Whether you're navigating city streets or cruising on the highway, the Corolla Hybrid's nimble handling and impressive fuel efficiency make it a practical and eco-friendly choice.
Toyota Highlander Hybrid
For larger families or those who require space for seven, the Toyota Highlander Hybrid is an excellent choice. The 2023 Highlander Hybrid combines three-row seating with hybrid technology, delivering a comfortable and fuel-efficient SUV with a fuel economy of about 6.7 L/100km when you drive in the city and 6.8 L/100km for highway driving.
With advanced safety features and a range of amenities, the Highlander Hybrid ensures that you can transport your loved ones and cargo while minimizing your carbon footprint. We think 453 litres of cargo space behind the three rows and over 1,300 L of cargo space behind the second row make it one of the most spacious SUVs an Edmonton family can buy. 
Which Toyota Hybrid is the Best?
As Toyota continues to lead the way in hybrid vehicle innovation, the year 2023 offers a range of exceptional choices for eco-conscious drivers.
Whether you're drawn to the iconic Prius, the elegant Camry Hybrid, the versatile RAV4 Hybrid, the compact Corolla Hybrid, or the spacious Highlander Hybrid, each model represents Toyota's dedication to sustainability without compromising on style, comfort, and performance.
Before making your decision, consider your driving needs, preferences, and the features that matter most to you. 
Come see us at West Edmonton Mall Toyota where we can provide you with expert guidance, test drives, and the opportunity to explore the latest hybrid models up close. Make 2023 the year you embrace the future of driving with a Toyota hybrid that aligns perfectly with your lifestyle and values.
Shop our entire inventory online here and remember to follow us on Instagram and TikTok for updates on all your favourite Toyota models, our customer events and more.