Aligra Wine & Spirits is The Best Liquor Store in West Edmonton
Aligra Wine & Spirits is The Best Liquor Store in West Edmonton
Posted on June 15, 2023
Aligra Wine & Spirits is one of the best liquor stores in West Edmonton. They also happen to be our Feature Partner for September! We are thrilled to have them as a trusted connection inside West Edmonton Mall and could say countless great things about the amazing reputation they have built over the years.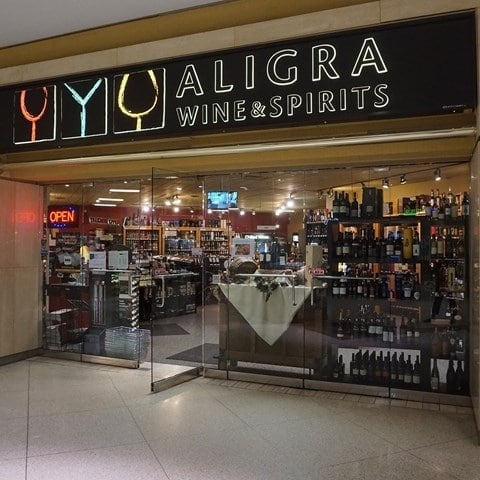 Want to learn more about this iconic speciality liquor and wine shop? We have all the juicy details below.
Edmonton's Best Kept Secret For Fine Wine & Liquor
Aligra Wine & Spirits has been a staple inside West Edmonton Mall since 2007 when Alison & Grant first opened its doors. Since then, they have truly created a place that is both warm and welcoming.
Every bottle in Aligra is hand selected and tasted by their close-knit team. This helps them guarantee their shelves are only filled with the highest quality products. And if you have any questions — you know they can answer them confidently with first hand experience.
Their Aligra Wine Club Is a Fantastic Way To Try New Wines
The Aligra Wine Club is a great way to try new wines hand selected by local pros. Their team of staff and sommeliers are constantly discovering fantastic new bottles to feature.
When you join their club, you receive their Wine Club Case which includes many of these wines, craft tasting notes and food pairing guides so you can explore new bottles without worrying if you are picking something good or not.
How Does Their Wine Club Work?
New Wine Club members can choose either six or twelve bottles on a monthly or quarterly schedule.
They can be shipped directly to your door or you can swing by Aligra and pick them up.
You can also mix and match your colours — all red, all white or a blend. Plus, Aligra Wine Club members receive 10% off everything in the store at all times. Click here for more details.
They Host A Ton Of Wine Tasting Events in Edmonton
Having a liquor store near home with a staff you can trust for great recommendations is half the battle. But when they host dozens of educational and tasting events, too? In the car world… we like to call that the whole package.
Every month, they host a 2 hour class about wines and spirits led by one of their top Sommeliers. The evening includes a guided tasting of up to 10 different products with food pairing appetizers as well as take-home notes and tasting information with prices. Plus, every attendee gets 10% off all purchases made the night of the class.
They also host tasting events on Friday and Saturday afternoons. We highly recommend swinging through on your next weekend visit to the mall.
Aligra is also available to book for your private event. They have pretty much done it all from weddings to bridal showers, charity fundraisers and business events…. including our own!
We have been so impressed with the selection of wines they chose for our last two customer happy hour events — our guests were equally as wowed.
Also Read: WEM Toyota Customer Event | June 2022
Looking For a Local and Knowledgeable Liquor Store on The West End of Edmonton?
Aligra is different from any other wine and spirit retailer our team has come across. They literally do it all — from having actual sommeliers on their team to help with recommendations to dozens of events to brush up on your wine knowledge.
They do curated gift baskets if you want to put something special together for the wine lover in your life but need an expert opinion.
They also recently expanded their craft beer selection for their customers who also love a frothy pint.
You can scoop gift cards from them or purchase them directly. They can also deliver your products directly to your doorstep within Edmonton.
Yes you read that right.
A liquor store that offers free delivery is the ending to this story you were all waiting for.
You can find Aligra inside West Edmonton Mall tucked inside Entrance 58. For more details on our partnership or our future happy hour events stay tuned to our Instagram and Facebook.