5 Reasons Why We Are The Best Auto Repair Shop in Edmonton
5 Reasons Why We Are The Best Auto Repair Shop in Edmonton
Posted on June 16, 2023
West Edmonton Mall Toyota is quickly gaining the reputation of being the best auto repair spot in Edmonton for everything from basic maintenance services to windshield replacements, car detailing and more.
While we have loyal customers that have been servicing with our dealership for over twenty years, we also have new Edmontontians discovering us daily for all their auto servicing needs.
We asked our customers to tell us their favourite reasons for returning to our service center for car maintenance and repairs and they certainly delivered. Don't just take our word for it — here are the top ten reasons why they think we are the best auto servicing centre in Edmonton.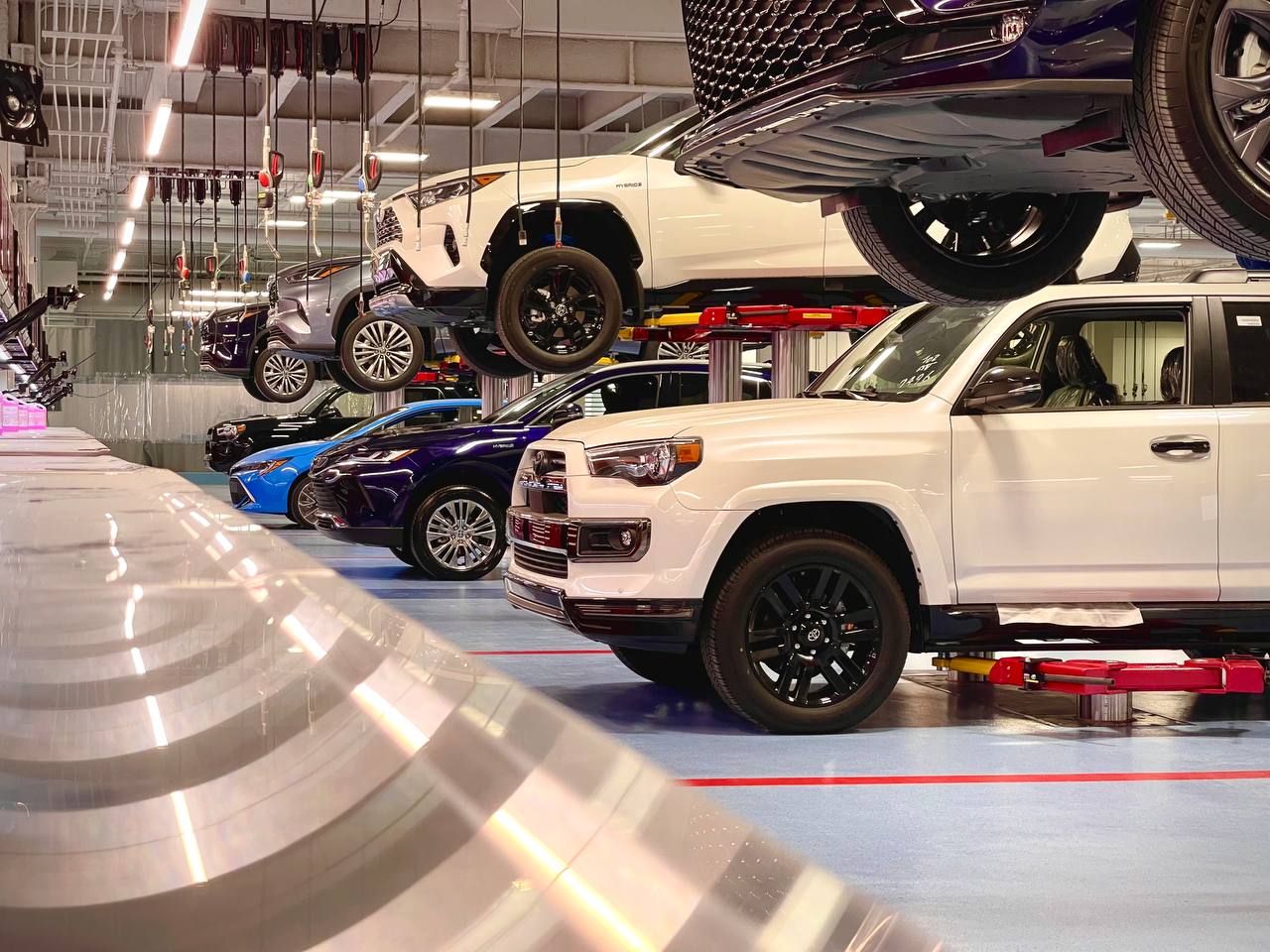 Reason #1: We Service All Makes and Models
While we are a Toyota dealership and know the ins and outs of every Toyota model on the road, our technicians are well-versed mechanics that can diagnose and repair every make and model.
So whether you drive a Nissan, Ford, Kia, Hyundai, Mercedes, Mazda or another brand — you can still bring it to our service center and expect the highest quality of care.
Reason #2: We Have a Professional Detail Centre
We have an amazing crew of professional car detailers on our team that can take even the dirtiest vehicle and make it look brand new. We offer a variety of packages to suit your needs and no matter which you choose you can expect a beautiful finished product.
Our detailers pay attention to the small things. So even the dirt between the nooks and crannies in your console to the smudges on the windows and the fingerprints on the dash — our detailing team makes sure every inch of your vehicle is scrubbed and cleaned.
Reason #3: Explore West Edmonton Mall While You Wait
Being located in West Edmonton Mall has its perks. With over 800 stores and services, two hotels, a waterpark and 100 different places to eat and drink, there are endless options for our guests to choose from while they wait.
Our customers are always telling us about the things they did while they waited. Families love playing mini golf or exploring Galaxyland with the kids. We even had a customer recently get their eyes checked and picked up a new pair of glasses while their car was getting an oil change.
Whether you decide to sit down and grab a bite on Bourbon Street or make grab some new shoes from Spring, your time spent with us is never wasted. What other car dealership in Edmonton can offer the same amenities just seconds from their doorstep?
Reason #4: Valet Your Vehicle When You Visit
Plan on visiting West Edmonton Mall for other reasons? We can help with that, too. Our easy-to-use valet service makes your life a thousand times easier. Instead of driving around in circles searching for a parking spot, just pull up through our valet centre and pass your keys to us.
We'll park your vehicle for you and when you want to leave just head to our service desk and present your ticket. Our valet drivers will pull your vehicle upfront. You can even have it detailed while you shop.
Reason #5: Our Service Process is Convenient
We have perfected a service process that not only makes things easy for our service customers but that also ensures nothing is missed throughout your visit with us.
When you drive into our service centre, one of our knowledgeable attendants will immediately scan your VIN number. Then we do a quick walk around of your vehicle with you so we can make sure your car is returned to you exactly how you dropped it off.
From there you head to our front desk where we break down the work being done on your vehicle and when you can expect to pick it up. Once your car is ready, you can head back to the front desk and pay. One of our attendants will pull your vehicle up to the front for you and you can be on your way.
Come See Us At West Edmonton Mall Toyota
We told you there were a lot of reasons why we are quickly becoming the go-to destination for all things car repairs and maintenance in Edmonton.
At West Edmonton Mall Toyota, our top priority is to make your experience with us as convenient as possible. That means efficiency at every step. From the moment you drive your vehicle into our service bays, we want your experience to be one you appreciate.
Our customers lead busy lives and our goal is to get your vehicle running at its best and have you back on the road so you can get on with your day. You can even make the most of your time by running errands or grabbing a bite inside the mall while you wait.
We also have a comfortable and modern service area to wait in if you prefer. Connect to our complimentary WiFi, grab a cup of coffee and get some work done. Or, make use of one of our hybrid shuttles and get a ride back to the office or home.
Whatever you want to do — we have you covered!
Ready to try our service centre for the first time? Book an appointment for a routine service here or try one of our detail packages. Whatever you decide, our team is here to help every step of the way.